June is usually a busy month for teachers. Final exams, grades, school reports, meetings with parents are the usual stressing tasks for all of us. So as soon I begin my summer holidays, I start to pay attention to many other forgotten activities  and hobbies. One of those activities is to read about what's going on in the Moodle Community.
In addition to read some interesting threads in the Moodle forums, and have a look to some selected blogs, I usually go to my Moodle list in Twitter to follow a large group of moodlers around the world. And it's usually around the first two weeks of July when some Australian or American moots are taking place. The last two years I followed in July the Australian moots and this year, as I finished a bit later my professional duties, I focused my attention on the Montana Moodle Moot 2014. The hashtag #mtmoot gathered hundreds of tweets in a vibrant timeline from participants at that event held at Helena (Montana).
The flow of  tweets was constant and as you'll see below, most of them were very interesting too. This time I decided to write a summer post about this particular way of virtual attendance to a learning event which occurs at more than 4,700 miles away from where I live.
Through the hashtag (#mtmoot) I could read messages (tweets) posted since some days before the beginning of the event to now (24h after the end of the event). As early as on January (maybe earlier), some organizers started to tweet about #mtmoot. Some weeks before the event the mtmoot crew confirmed a physical attendance of «over 150 folks from 23 states and 3 countries«. Of course I was not in their lists, but now they can add me up as a virtual attendant and Spain as a new more country. 😉
I can say that I have a good idea about what they were talking about. My knowledge came not only from the text messages (tweets) but also from a lot of multimedia files they attached to their tweets. Most of keynotes were reported by participants with nice and funny pictures, videos, useful links to valuable websites and slideshare presentations. Some tweets were replies to others so as soon as you organised them in a thread gave me a valuable landscape of their discussions. Microblogging with 140 characters is difficult but once one  gets used to write them, some messages become even more concise and descriptive than it'd be ever expected.
Of course I didn't smell the fresh air of the Rockies mountains, nor taste their beer, nor felt the friendship of the great people who attended physically to the event. That's what I'm missing but, at least, I feel that, somehow I've been there with them too 🙂 Who knows. Maybe one year I can take my wife and my children and drop by there as a real attendant.
Below it's my Tweets Notebook. Some selected tweets I've chosen as a summary for this vibrant #mtmoot 2014. There were many others good enough to be selected but my editor limited the pages of my book 😉
A.- As I said before, +1 'virtual' participant and +1 country (Spain):
Over 150 folks coming from 23 states and 3 countries for the #mtmoot! #Moodle #Diversity #Montana pic.twitter.com/OphscHoU4t

— Mountain Moodle Moot (@mtmoot) junio 9, 2014
B.- Most moots are usually fun but this is…Ice Blocking at Mountain Moot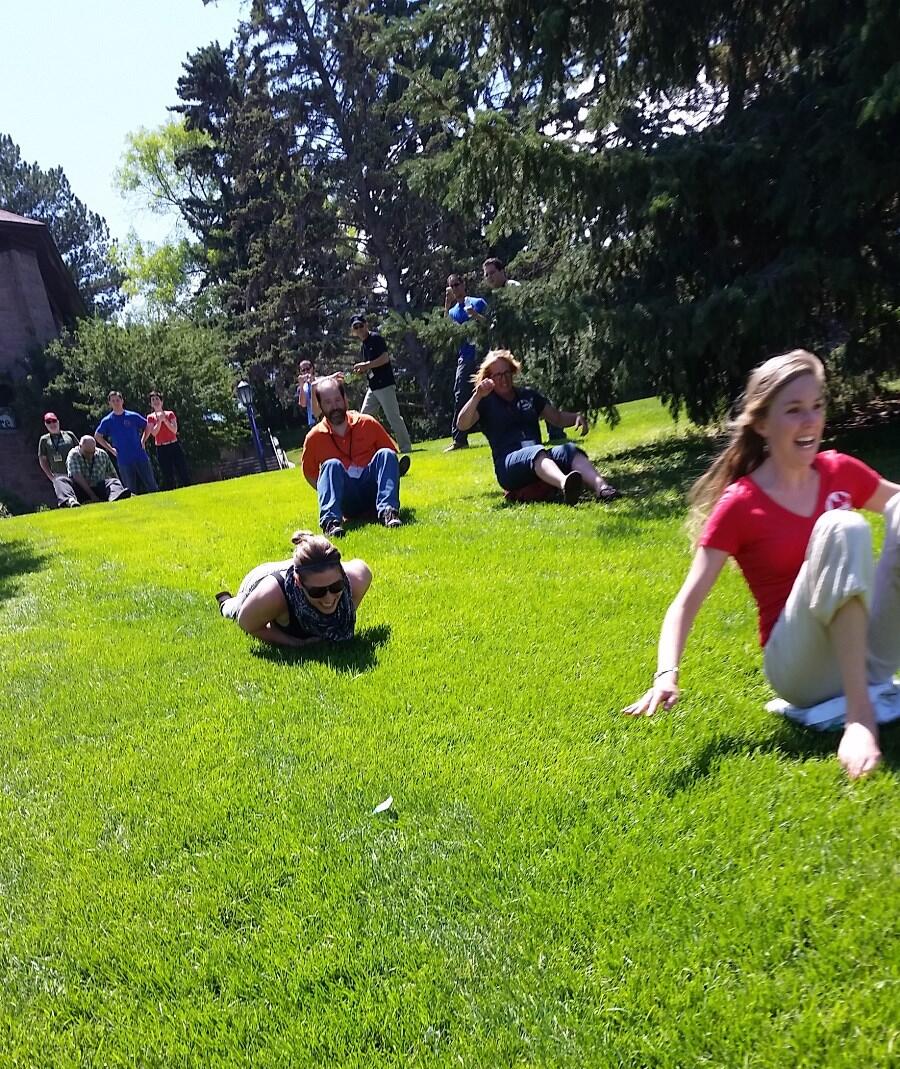 c.- Julian Ridden (moodleman and now @EduRidden) was the guest start at #mtmoot. His keynote was full of anecdotes and brilliant ideas some of which are below:
Thankyou @kachoodan, @MisterHazen and the #carrollcollege crew for a genuinely memorable and brilliant #mtmoot. pic.twitter.com/cNtz8nzq7K — Julian Ridden (@EduRidden) julio 11, 2014
"#Moodle is an «operating system for managed education" Via @moodler #mtmoot — Julian Ridden (@EduRidden) julio 10, 2014
Open source is very compatible philosophically with education. A critical tool. #mtmoot — Julian Ridden (@EduRidden) julio 10, 2014
Thank you @EduRidden for your contributions to the #moodle community and the class, elegance, and occasional low pun as you depart #mtmoot — Randy Thornton (@thornedu) julio 12, 2014
«Teaching first and technology is just a tool» @EduRidden – cannot be said often enough! #mtmoot — Michelle Moore (@michelledmoore) julio 11, 2014
«I would love to change the world, but no one will give me the source code» @EduRidden #mtmoot — Michelle Moore (@michelledmoore) julio 11, 2014
@EduRidden Just reaffirmed the fact that digital immigrant/native aurgument is off base. #mtmoot — Mike Agostinelli (@mikegusto) julio 11, 2014
@moodler #mtmoot pic.twitter.com/2wvYSBwdBf — Emma Richardson (@emmayj1) julio 11, 2014
Some more Pictures…
More @moodler pics! #mtmoot pic.twitter.com/7cNyuLHvOY — Emma Richardson (@emmayj1) julio 11, 2014
Oh ya, baby!!! #mtmoot #moodle @moonamihq pic.twitter.com/rKrOLZiySP — Lisa (@LmaceLisa) julio 11, 2014
@EduRidden signs off with a challenge for the rest of us in the Moodle community to take up the mantle #mtmoot pic.twitter.com/9B3tfVfCoL — frank fucile (@frankfucile) julio 11, 2014
Incredible presentation by a passionate educator who just likes to talk @EduRidden #mtmoot so glad I had a chance to catch his last moot! — Dylan Romero (@mobilewebs) julio 11, 2014
d.- Michelle Moore,who I met personally at Moodlemoot Spain 12 in Madrid, talked about the REAL model for course development. Michele is able to extract instructional gold from every resource, activity or configuration tool in Moodle. As she said, she's with Moodle (v1.1) since August 2003
@kentbrooks @mtmoot @eduridden I started with Moodle 1.1 just after its release in August 2003 #mtmoot — Michelle Moore (@michelledmoore) julio 11, 2014
Early discussion of #moodle from @moodler https://t.co/uYFQ53bj0Z #mtmoot — Michelle Moore (@michelledmoore) julio 11, 2014
The REAL model for course development, Rich Engaging Active Learning Environment @michelledmoore #mtmoot pic.twitter.com/4nNMG2Q9jb — Dan case (@kachoodan) julio 10, 2014
RT @moorejon: Best practices in #Moodle administration (#mtmoot 2014 slides) http://t.co/s79Rf0P7BL #edtech #SysAdmin — Moodle (@moodle) julio 12, 2014
For those that want an example of learning analytics at work, see the now defunct «school of one» project: http://t.co/UlZcRNYFve #mtmoot — Jason Neiffer (@techsavvyteach) julio 10, 2014
@michelledmoore at #mtmoot: clarity is golden in an online course — Jason Neiffer (@techsavvyteach) julio 11, 2014
@michelledmoore at #mtmoot: Two indicators for success as an online teacher: teaching experience and experience as an online student. — Jason Neiffer (@techsavvyteach) julio 11, 2014
3 Icon sites many free: http://t.co/ET9N3QMW0B http://t.co/hlbcd6HUwr http://t.co/2RDJyWIZLe @mtmoot #mtmoot @eduridden — Kent Brooks (@kentbrooks) julio 9, 2014
«Hey kids, evaluate» may not be the best way to help them understand how to evaluate. #mtmoot — Chris Fuller (@Gonzuller) julio 11, 2014
WooCommerce is the most popular WordPress eCommerce plugin @mtmoot #mtmoot — Kent Brooks (@kentbrooks) julio 11, 2014
Anyone can hold a Moot but great people hold great Moots – thx @kachoodan @MisterHazen @JSongey #mtmoot — Randy Thornton (@thornedu) julio 11, 2014
And finally my tweet:
@emmayj1 @EdConsultingOrg @escolas_org It's 16:14h I'll write you very soon. Enjoy your Saturday digesting all the best from #mtmoot — Toni Soto (@ToniSoto_Vigo) julio 12, 2014